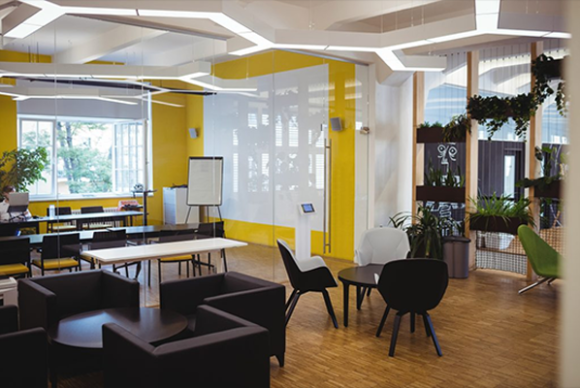 Premium Workspaces That Inspire Productivity!
Whether you are a single-person startup, an established enterprise or a freelancer looking for a premium office space in Delhi NCR, Eminence can provide a professional backdrop that brings out the best in your business. Located in the midst of a bustling corporate district in the NCR, our co-working spaces are ergonomically designed and feature world-class amenities to foster productivity and positive energy. Configurable as per requirement, with flexibility and scalability to upsize and downsize as you go, our hubs are tuned to the needs of the Indian entrepreneurial spirit.
Space Highlights
We are dedicated to providing you with access to a premium co-working space to make your work-life easy. We will take care of everything, so you are free to focus on revenue-driving activities and grow your business in today's fast-moving, versatile business environment. Let our ergonomically designed hubs redefine the way you work!
Stationery
Our spaces are fully stocked with printers, scanners, copiers and basic stationery to aid your productivity.
High-Speed Internet
Our spaces are equipped with high-speed Wi-Fi connectivity to ensure an uninterrupted workflow.
Travel Connectivity
Thanks to a well-connected location, our co-working spaces are easily accessible by road and metro.
24/7 Security
Our spaces are secured with CCTV surveillance cameras and security guards so you can focus on what's most important, your work.
Meeting Rooms
All our spaces are fully equipped with tech-enabled conferences and formal/informal meeting rooms.
Casual Areas
Beautifully designed lounge areas to help you relax, socialize with co-workers and give your mind a chance to rest.
YOUR WORKPLACE IS WAITING!
Eminence provides world-class ergonomically designed workspaces for SMEs in Delhi NCR. Our flexible office spaces are move-in ready and suitable to accommodate teams of any size. Schedule a tour today to experience Eminence's co-working spaces for yourself!