Wedding shenanigans in Delhi have ever since been extravagant. Not just the couple but different families come together to celebrate the joyous times and imbibe a whole new and unique experience. But the moment you begin to plan for your wedding, jotting down the best wedding venue, one that's accessible, budget-friendly, and offers the needed amenities, is one of the primary tasks to do.
You must finalize a venue that allows you to arrange diverse resources and keep your guests entertained and demands fulfilled to relish all festivities. For your convenience, the Eminence by Prakash Tholia team brings you a list of top 5 wedding venues in Delhi-NCR to make your big day an unforgettable bliss. So, without any further ado, let's get right into the details:
THE LEELA AMBIENCE
This wedding venue in Gurugram defines luxury at its best. You get spacious halls, pleasing outdoors, and exquisite décor. Besides, you can arrange massive gatherings and enjoy various other facilities. You also get premium rooms, assorted mouth-watering delicacies, different party spaces, and a lot more to provide you with a tremendous experience and make your wedding day memorable.

NOOR MAHAL
This one's amongst the most majestic palace hotels built on a monumental scale. It perfectly captures royalty and the rich heritage witnessed over the decades. Noor Mahal in Karnal is best for both budgeted and big fat weddings. It's a one-stop-shop offering trending and personalized wedding experiences that mix rich modern hospitality and royal grandeur. It won't be incorrect to call this dream destination an epitome of tradition and intimacy.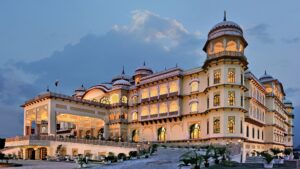 FORTUNE PARK BOULEVARD
The Fortune Park Boulevard in Chattarpur is an opulent property with well-manicured outdoors and modern and mystical vibes. It's one of the go-to venues for many couples in Delhi-NCR and also if you are planning a destination wedding in the city. The venue provides excellent services to deliver quality for both pre-wedding and wedding day celebrations.

CROWNE PLAZA
The space is good enough to gratify your guests. Both indoors and outdoors offer an aesthetically pleasing experience while providing numerous facilities to reduce your stress in planning the wedding shenanigans. It's an elite space with a relaxing atmosphere and one of the most sought after wedding venues in Delhi-NCR. Check out their locations to settle with the one that suits you the best.
BEST WESTERN COUNTRY RESORT
Located in Manesar, this wedding venue is perfect for both outdoor and indoor functions. It's one of the biggest venues in the Delhi-NCR region, offering trending and pleasing facilities for couples and their families. So give your friends and relatives a boutique luxury resort experience and celebrate the auspicious occasion the way you've dreamt.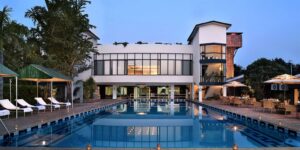 GETTING MARRIED THIS YEAR? CONTACT US! 
Above isn't a complete list – there are a whole lot of other wedding venues in Delhi-NCR, including Park Plaza, Radisson Blu, Dee Mark Hotels And Resorts, Four Points By Sheraton, Tivoli Royal Court, Hyatt Place, Orchid Valley, and more. But make sure to connect with concerned authorities to know the exact details regarding availability, booking costs, and other features. If you are planning to get married in Delhi-NCR, get in touch with us at +91-98101 98200. We can help you plan all the specifics and make your D-Day special.