Almost all newly engaged couples often dream of tying their knot in a not less than a fairytale style. Everybody wishes to make their wedding memorable by going for a destination-style wedding over a traditional Indian wedding.
An ideal wedding destination consists of a flavor of elegant arrangements with romance and the best possible location. Adding a certain level of uniqueness to your destination wedding means looking for the best place to make it perfect.
When you plan a grandeur and royal wedding, no other city can beat the beauty and magic of Jaipur. Having numerous fantastic wedding venues to choose from, Jaipur has always been on the list of top places for destination weddings in India that offers romance in a different flavor. If you plan a beautiful destination wedding for you and your guests, you need to consider the following places.
Narain Niwas Palace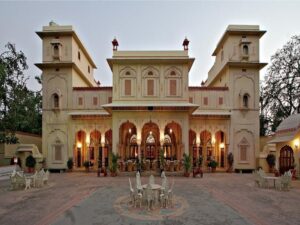 Narain Nivas Palace is one of the best places for you to celebrate your most awaited day. Built during the Victorian era, this Palace will ensure that your wedding is a customized and flawless high-value affair. Bold and colorful décor, Anglo-Indian style painted walls, and ethnic furnishings make this heritage hotel a perfect wedding venue in Jaipur.
The hotel will serve you some of the best vegetarian and non-vegetarian multi-cuisine that you can find in the city. They also give you the freedom to choose your caterer or decorator outside if that suits your particular needs and wants.
The hotel will provide you and your guests a comfortable stay and features enormous lawns and a spacious indoor setting that allows you to host a large gathering. These qualities are surely going to make your D day outstanding.
Rambagh Palace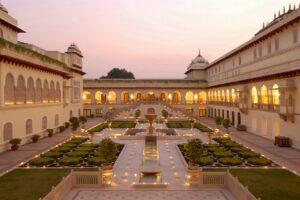 covering a lush green area of 47 acres, the Rambagh Palace is probably the best destination to get married in Rajasthan. It features several tranquil landscaped gardens and is Jaipur's foremost Royal Palace residents.
The Palace is known to exude a regal feel and elegance. Trying to get married here is certainly one of the best things you can think of getting. If budget is not a problem for you, then there cannot be a better place in Rajasthan to fulfill your dream of having a Royal wedding here in India.
The Palace has numerous D-day and pre-wedding venues within its premises. From small yet elegant functions to grand receptions, Rambagh Palace is going to ensure that your wedding has an exquisite backdrop. Be it flourishing lawns under twinkling lights or the regal terrace with a breathtaking view, this Palace infuses your wedding with an eastern, mystic charm.
Samode Palace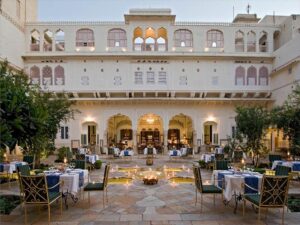 If you wish to fulfill your grand wedding plans without compromising on anything, then Samode Palace is an ideal destination for you. This particular heritage palace is one of the best historic venues in Jaipur that can make your dream wedding come true.
Its stunning backdrop is perfect for a traditional Indian wedding and will light up your guests' mood. The Palace has state-of-the-art amenities and services, making the Samode Palace one of the best wedding destinations in Jaipur. The deck, corridors, restaurant, and halls feature a perfect Rajput Mughal architecture style and are embedded with mirror work and rich painted sceneries from Indian mythology.
Flora and fauna around the property add royalty to all occasions. Its pool-facing terrace area surrounded by Aravali Hills is another famous venue that attracts a lot of attention.
The Raj Palace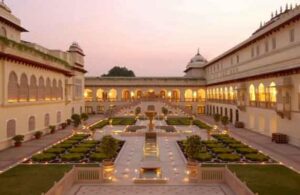 The Raj Palace is easily one of the most recognized and most prominent wedding destinations that Jaipur has to offer for a Royal wedding. Since this heritage location is strongly and deeply connected with the historical era, you should expect a wedding like Princess and Prince exchanging vows against the ethnic backdrop.
The decor includes hand-painted fiascos, gold fittings, brocades, stucco, huge crystal chandeliers, antiques, and various other priceless artifacts that are going to leave you awestruck.
This venue offers a brilliant arrangement of a procession with camels, elephants, and horses, along with entertaining performances by professional Rajasthani folk musicians and dancers and puppeteers. Apart from a deep cultural Royal wedding, you can also get modern, sophisticated cocktails and various other pre-wedding ceremony's here that are classy and immaculate.
Shiv Vilas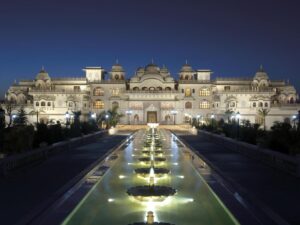 Shiv Vilas is a dreamlike white palace with magnificent architecture and a breathtaking interior that is ideal for celebrating one of the biggest days of your life. It will be difficult for you and your guests to get this place out of your head once you celebrate your special moments at this wedding destination in Jaipur.
It is a paradise for all to-be married couples, which features picture-perfect gardens and sun-dappled alleys, making it the perfect place to host a grand celebration. Here you are going to get a grandeur experience along with never before luxury and leisure. Shiv Villas provides exceptional services and magnificent views that will make it harder for you to stop celebrating in a Royal fashion in Jaipur.
Jai Mahal Palace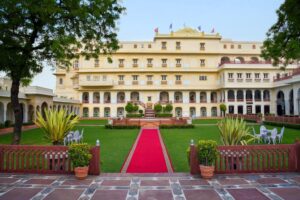 The Jai Mahal Palace is an ideal example of an Indo-Saracenic architectural masterpiece. This destination is absolutely perfect for your dream wedding since it has been a host to numerous royal weddings in Jaipur.
Owned and run by the Taj group of hotels, this particular heritage venue offers world-class services that will make your special day even more special for you and your family. No matter what type of event you are planning, this Palace will undoubtedly deliver you high-class ceremonies and class apart events. Its poolside also has a natural stage which is going to add to the charm of your celebration.