Beauty, culture, history, romance, and drama – everything comes together when in Rajasthan. If you'd always thought of becoming a princess bride or a majestic groom, taking your wedding vows at a venue imbued in grandeur and luxury, nothing can beat Rajasthan.
All of the celebrity weddings testify to the uniqueness and magnificence of this place. It's no less famous than any destination overseas. Many Indian and international celebrities have chosen the extravagant and oh so regal Rajasthan to say I Do in their exclusive styles.
The palaces, hotels, and the vibe of this place cannot be expressed in words. Want to know about the popular wedding venues? Here are the top 5 celebrity picked wedding venues in Rajasthan you can choose for your dream day too.
AMAN-I-KHAS, RANTHAMBORE
Set amidst a luxurious wildlife campsite, the Aman-i-Khas resort is a stunning venue where Katy Perry and Russell Brand tied the knot. It's one of the most looked-forward venues for couples who wish to arrange a royal style soiree and bring that fairytale wedding to life.
THE UMAID BHAWAN PALACE, JODHPUR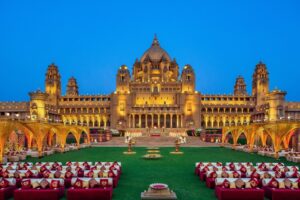 Being one of the largest and most opulent private residences, the UmaidBhawan Palace is well known for its rich heritage, architecture, lush landscape, and lavish amenities. It's a hot spot for celebrity weddings, and the Taj Group managesthe property. If the fit for prince or princess style excites you to the core, this is the venue for you.
FATEH GARH PALACE, UDAIPUR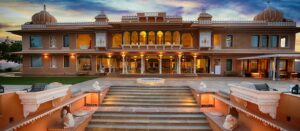 This spectacular and iconic venue is most famous for hosting theBullslas (Oleg Büller and DiipaKhosla) wedding in 2018. It's an old-style palace but very beautiful and allows you to create your own little history with your wedding. The property certainly revitalizes the cultural, environmental, and spiritual heritage of the past – an element you'd not want to miss adding to your big day.
NEEMRANA FORT PALACE, ALWAR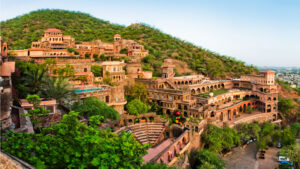 This one's a stunning and exotic wedding venue in Rajasthan that'll make your heart skip a beat or two. Being amongst India's oldest heritage sites, Neemrana Fort has been an ideal destination wedding venue for many celebrities to host their sophisticated, jazzy, and splendid soirees.
SURYAGARH PALACE, JAISALMER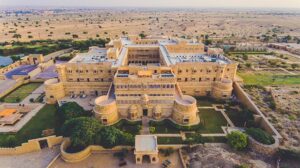 This luxurious wedding venue is nothing less than a beautiful dream. With picturesque views, inviting exteriors, warm vibes, stately gardens, and elegant spaces, Suryagarh Palace reverberates with love, colours, and rituals. It will make for a splendid choice for your destination wedding in Rajasthan.
There are so many more popular celebrity picks, and you, too, can pull off your regal style wedding at these venues. Partner with a destination wedding planner to know more about the different venues you can go for according to your taste and budget and host the celebrations your-way. They'd be able to offer you a hassle-free and exciting experience while you're in Rajasthan.